About Periodontal Disease
Periodontal disease is an infection of the gums, which gradually leads to the destruction of the support of your natural teeth. This disease affects more than 80% of Americans by the age of 45.
Dental plaque is the primary cause of gum disease. Bacteria found in plaque produce enzymes and toxins which injure the gums. Injured gums turn red, swell and bleed easily.
If this injury is prolonged, the gums separate from the teeth, causing pockets (spaces) to form.
Plaque can also harden into a rough, porous substance known as calculus (tartar).
This can occur both above and below the gum line. As periodontal disease progresses, the supporting gum tissue and bone that holds the teeth in place deteriorate.
If left untreated, this leads to tooth loss. Pain is usually not present until damage from this disease is very advanced.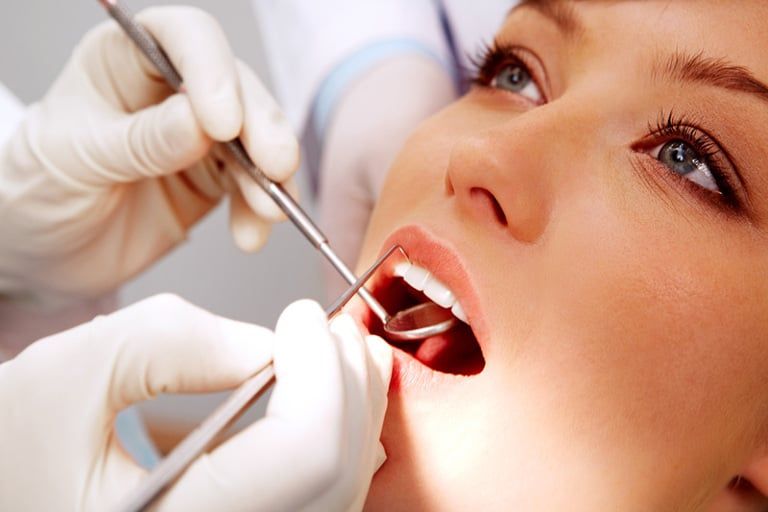 Periodontal Health Effects
Studies have shown links between periodontal (gum) disease, heart disease and other health conditions.
Research further suggests that gum disease may be a more serious risk for heart disease, more so than hypertension, smoking, cholesterol, gender or age.
Researcher's conclusions suggest that bacteria present in infected gums can become loose and move throughout the body through the bloodstream. Once bacteria reaches the arteries, they can irritate them in the same way that they irritate gum tissue causing arterial plaque, which can cause hardening and affect blood-flow.
Healthy Gums
Healthy gums are generally pink and anchor the teeth firmly in place. Healthy gums do not bleed or hurt during normal brushing and flossing.
Early forms of gum disease can easily be treated and reversed with daily brushing and flossing and dental checkups every 6 months. Canarsie Cosmetic Family Dental can get you on your way to healthy gums. All you need to do is call (718) 531-9100 or request an appointment online and come in for a visit. Your gums will be glad you did!
Gingivitis
Gingivitis is an early stage of gum disease. Gingivitis develops as toxins, enzymes and other plaque byproducts by irritating the gums, making them tender, swollen and likely to bleed easily. Gingivitis generally can be stopped with proper oral hygiene and minor treatment from your dentist. If this is achieved, your gums can return to a healthy state.
Periodontitis
When the bone tissue starts to deteriorate, this is known as a form of gum disease called Periodontitis. This happens when the byproducts of plaque attack the tissues that hold your teeth to the bone. The gums begin falling away from the teeth and form pockets in the gums which allows more plaque to collect below the gum line. When this occurs, the patient becomes more sensitive to hot and cold and the roots of the teeth are more vulnerable to decay.
Advanced Periodontitis
Advanced periodontitis occurs when a major amount of gum and bone tissue has been lost and the teeth are losing more and more support due to the loss of periodontal ligament and bone. Some teeth are unable to be saved and must be extracted. If left untreated, advanced periodontitis can cause severe health problems elsewhere in the body.
Sensitivity
Suppress the urge to avoid cleaning teeth that are sensitive to cold! Teeth that have suffered damage from gum disease will always be more sensitive to cold. Avoiding them only makes it worse.
After any dental treatment, teeth may become sensitive. This is their way of letting you know that they've been injured. Any injury (cavity, tooth clenching/grinding, gum infection) can injure the nerves in a tooth. This should not last long if the teeth are kept clean. If the teeth are not kept clean, the sensitivity will remain or get worse.
If your teeth are especially sensitive, consult with your dentist. This could be a sign of the need for root canal treatment, a gum tissue graft, a desensitizing toothpaste (with potassium nitrate), or a concentrated fluoride gel (0.4% stannous- or 1.1% sodium-fluoride) may do the trick.
Gum Flap Surgery
When deep pockets between teeth and gums (6 millimeters or deeper) are present, it is difficult for a dentist to thoroughly remove the plaque and tartar. Gum flap surgery is a procedure where the gum flap is lifted away from the tooth. Diseased tissue and sometimes bone is removed. The rough surfaces of the tooth are then smoothed by root planing. The area is medicated and the gum flap is replaced and sutured allowing the bone and gum tissue to heal.
One of the goals of gum flap surgery is to reduce the depth of the periodontal pockets to make them easier to keep clean.
Frenectomy
If a patient has an excess amount of tissue that connects the lower and upper lips to the jaw and gum line, a frenectomy procedure is performed to remove the excess tissue. A frenectomy is either performed inside the middle of the upper lip, which is called a labial frenectomy, or under the tongue, called a lingual frenectomy. Frenectomy is a very common dental procedure in the dental world and is performed both on children and adults.
Functional Crown Lengthening
Decay can frequently be found below the gum line. In order to gain access to the decay, it is necessary to reduce some of the bone surrounding the area of decay so the gum tissue can be positioned either higher up or lower down on the tooth making access to repair decay feasible. In other circumstances, the tooth may fracture below the gum line. Often the tooth requires a crown (cap) to cover over the fracture line. In order for the crown to fit over the fracture line, it is necessary to raise or lower the gum and reshape the bone accordingly so that the fracture line now becomes visible above the gum. The tooth is now ready for a crown (cap).
When smiling, ideally there should be a display of upper teeth and a slight amount of gum displayed as well. In many circumstances there is an excessive amount of gum displayed (this is known as a gummy smile). In order to reduce the gum display so that there can be an ideal amount of tooth and gum showing, it is necessary to move both the gum and bone higher up on the teeth. The bone is gently sculpted to create room for the gum tissue to be ideally positioned. Hence the correct proportions of the teeth and gum are now visible.
Diode Laser
The Diode Laser is a great tool for shaping the gums and removing bacteria from the periodontal pocket, the space between the gums and tooth. Dental cleanings performed with diode laser therapy significantly improve the success of healing the gums. Inflammation, bleeding, pocket depths, and the amount of bacteria are all greatly reduced as opposed to just scaling and polishing the teeth alone. Best of all, laser therapy has been shown to improve circulation and increase the components that speed healing, referred to as Biostimulation. With any oral procedure or surgery, Biostimulation reduces pain and swelling and can help your mouth recover more quickly.
A Beautiful Smile Is Waiting For You
Our office provides smile makeovers to achieve the beautiful, natural look you seek. We can reshape your natural teeth to make them straighter and more youthful. Our office is easily accessible and makes it convenient to those living near Brooklyn to get the care they deserve.
Book An Appointment Now
Book An Appointment Now
Do you need dental work done? Has it been a while since you've been to the dentist? Do you just need a regular cleaning or are you looking for a brand new smile? Requesting an appointment is available online 24/7 and is as simple as submitting a simple form.
Book An Appointment Now